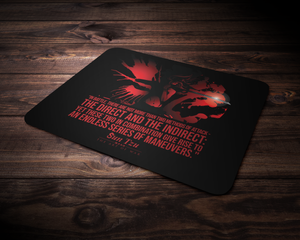 QUOTE: "In battle, there are not more than two methods of attack -the direct and the indirect; yet these two in combination give rise to an endless series of maneuvers." ~ Sun Tzu: The Art Of War (5.10 - Energy) 
IMAGE: Samurai Girl with Katana - RED
Revitalize and bring inspiration to the Office/Home/Student Desk, etc. with this computer mouse pad worthy of only the most wise and feared Warriors.  
SIZE
Length: 7.8" inches, Width: 9.3" inches, Height: 0.1" Inches