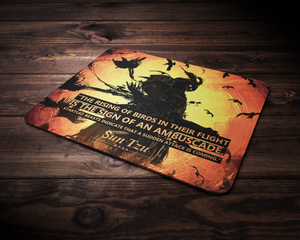 QUOTE: "The Rising Of Birds In Their Flight Is The Sign Of An Ambuscade. Startled Beasts Indicate That A Sudden Attack Is Coming." (9.22: The Army On The March)
IMAGE: Terrifying Ronin with a murder of crows flying above.
Revitalize and bring inspiration to the Office/Home/Student Desk, etc. with this computer mouse pad worthy of only the most wise and feared Warriors.  
SIZE
Length: 7.8" inches, Width: 9.3" inches, Height: 0.1" Inches