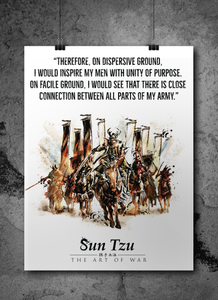 QUOTE: "Therefore, On Dispersive ground, I Would Inspire My Men With Unity Of Purpose. On Facile Ground, I Would See That There Is Close Connection Between All Parts Of My Army."  ~ Sun Tzu: The Art Of War (11.46 - The Nine Situations)  
IMAGE: Sengoku Warlord with his cavalry, galloping into battle.
Perfect for Home, Office, Gyms, Martial Arts Studios, etc.
DIMENSIONS
Width: 18 inches
Height: 24 inches